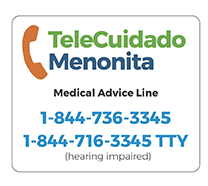 (PSM Medical Advice Service line*)
1-844-736-3345/ 1-844-716-3345 TTY (hearing impaired)
Free around-the-clock access to medical information and advice
Available 24 hours, 7 days a week
Health professionals will answer your medical questions, provide care advice and help you determine if you should be seen by a doctor right away.
Help with medical conditions, such as Diabetes or Asthma.
*By presenting in the emergency room the call identification number provided be the TeleCuidado Menonita representative you may avoid Copayments applicable to facilities outside de PSM Preferred Provider Network
** No Co-Payments be imposed for services to treat an Emergency Medical Condition or Psychiatric Emergency for Medicaid or CHIP Eligible.